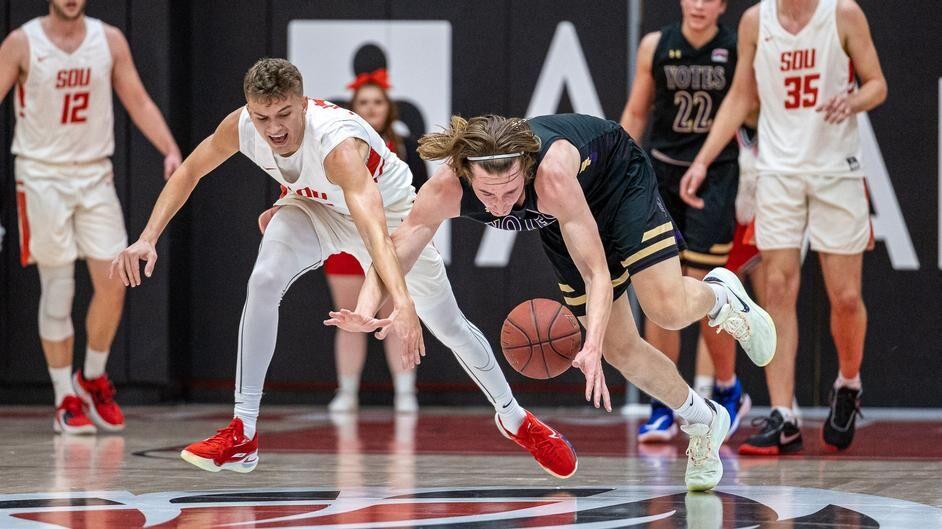 ASHLAND, Ore--- Southern Oregon had top-ranked College of Idaho on the ropes, but the Yotes outscored the Raiders 13-3 over the final five minutes to win 60-54 in a Cascade Conference clash Saturday night at Lithia Motors Pavilion.
With the Yotes trailing 53-51 and 3:41 left to play, Johnny Radford, their top scorer on the season, dropped in his only bucket of the game from 3-point range in the corner to give his team the lead. Samaje Morgan came up with a steal on SOU's ensuing possession and fed Straton Rogers for a layup in transition, and after the Raiders came up empty again Drew Wyman's second-chance bucket put C of I firmly in control at 58-53 with 1:19 remaining.
Morgan, a freshman reserve point guard, came up big down the stretch to keep the Yotes (18-1 overall, 13-0 CCC) perfect in conference play with their 18th consecutive victory. After committing three turnovers early in the second half, he recovered with nine points, four steals and three assists the rest of the way. He and guard Charles Elzie scored 11 points apiece to lead the team.
The Raiders (12-7, 8-5), who led 29-24 at halftime, never found an offensive rhythm in the second half, where they shot 8-of-27 from the field with a 3-of-17 showing beyond the arc.
Josh Meyer scored a game-high 17 points to go with five rebounds, four assists, two steals and two blocks to cap a strong weekend, and Atmar Mundu scored 11. After the Yotes erased a seven-point deficit to go up 45-42 with 8:15 to play, Mundu's 3-pointer and Meyer's three free throws put the Raiders back in front.
Mundu's third triple made it 51-47 at the 6:38 mark. SOU had two 3-point chances to further extend that lead over the next minute but missed them both. C of I then made its move.
The Yotes completed the regular-season sweep of SOU, but the Raiders gave them two of their biggest tests of the season. The first matchup produced 13 lead changes, and this one had 12.
The Raiders will play the third game of their five-game homestand against Oregon Tech at 7:30 p.m. Tuesday. The Owls will enter the matchup reeling with four losses in their last six outings and a 5-8 CCC record after being swept this weekend.