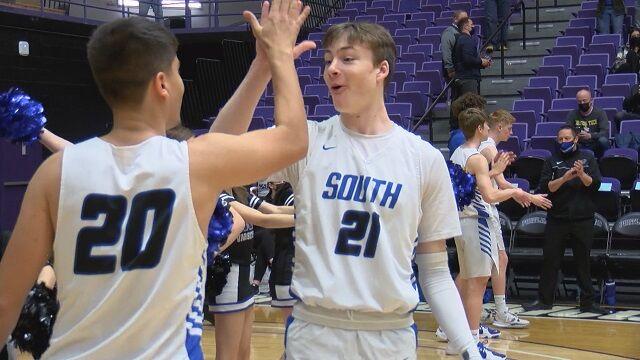 MEDFORD, Ore--- The Southern Oregon area basketball fans already knew what South Medford freshman Boden Howell was capable of entering the 6A Boys Basketball State Tournament. If the state had not heard yet, it has now. 
Despite a 4th place finish for the Panthers, Howell managed to make a name for himself in front of the best in Oregon. 
"I tried my best to come in and show team that I wasn't just a little kid," said the 6'3" freshman. "I tried to come in and show some leadership."
South Medford got more than just leadership out of Howell. However, the first big display of that leadership came after South's most frustrating game of the tourney. 
Following a 56-39 loss to West Linn, Howell showcased the work it takes to make him what he is. 
"He just works at it," said South Medford head coach James Wightman. "365 days of the year, he works at it."
As the Chiles Center sat empty, Howell emerged from the locker room moments after the loss. With tears still in his eyes, he grabbed a ball and started practicing.
In that game, Howell had 16 points which led the Panthers in scoring. It wasn't enough to overcome the 26-point performance from Oregon commit Jackson Shelstad.
"Some games it got tough. Obviously, the West Linn game was tough," said Howell. "Just keep your head in it and keep going."
The Panthers kept going just fine. On the following day, the Panthers earned an overtime victory over Beaverton. The win moved South Medford into the 4th place game against Roosevelt. 
Against Roosevelt, Howell let everyone know who he is. His 32-point, nine-rebound game sparked conversations through the entire arena. Howell made it very clear that he should be considered a top prospect in Oregon's 2025 class. The Panthers finished 4th in the state.
In the video above, you can watch the Amateur Athlete feature NewsWatch 12 Sports ran on Howell.