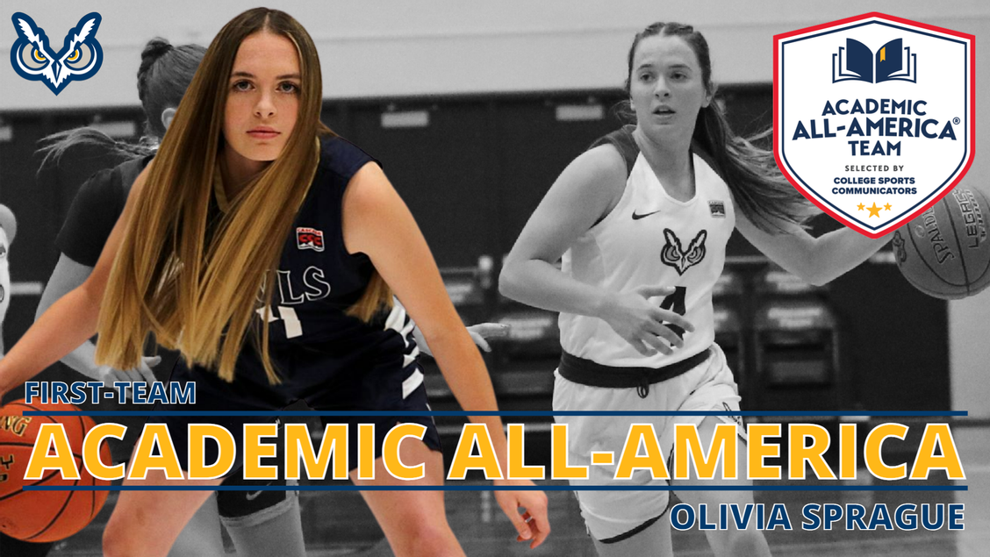 AUSTIN, Texas – Oregon Tech guard Olivia Sprague earned the highest honor for a student-athlete, becoming the first-ever first-team NAIA Women's Basketball Academic All-American, announced by the College Sports Communicators (formerly CoSIDA).
The sophomore, from Clatskanie, was a member of the 5-player first-team – selected from a panel of athletic communication professionals across the United States and Canada. The dental hygiene major was joined by Melissa Akullu of Vanguard, Claire Austin of Saint Xavier, Grace Beyer of the University of Health Sciences and Pharmacy, along with Brynley Fitzgerald of Montana Western.
"This is an unbelievable honor for Olivia, a testament to her work on and off the court," said OIT head coach Paul Poetsch. "I am so proud of what Olivia does each and every day in the classroom and on the court. She epitomizes what a student-athlete is all about and our entire Oregon Tech community should be proud of Olivia Sprague."
To earn the distinction, a student-athlete must be nominated by their school's sports information department. The player must be a sophomore, junior or senior in academic standing, maintain a 3.50 grade point average or higher and be a starter or key reserve on the team. To earn a spot on the final Academic All-America ballot, a nominee must be selected to their respective Academic All-District first-team.
Sprague had a breakout season, leading the Lady Owls in scoring average (16.6), assists (117) and steals (63) – ranking in the Top-5 in the Cascade Conference in all three categories, along with 3-point percentage (.426), free throw percentage (.842) and 3-pointers made (69). She was honored as a first-team All-CCC selection.
College Sports Communicators NAIA Women's Basketball Academic All-America Team
First-team: Melissa Akullu (Vanguard), Claire Austin (St. Xavier), Grace Beyer (UHSP), Brynley Fitzgerald (Montana Western), Olivia Sprague (Oregon Tech)
Second-team: Zoie Barth (Thomas More), Kaitlyn Edgermon (Wayland Baptist), Jordan Pyle (St. Francis), Molly Schany (Northwestern), Taya Wilson (Sterling)