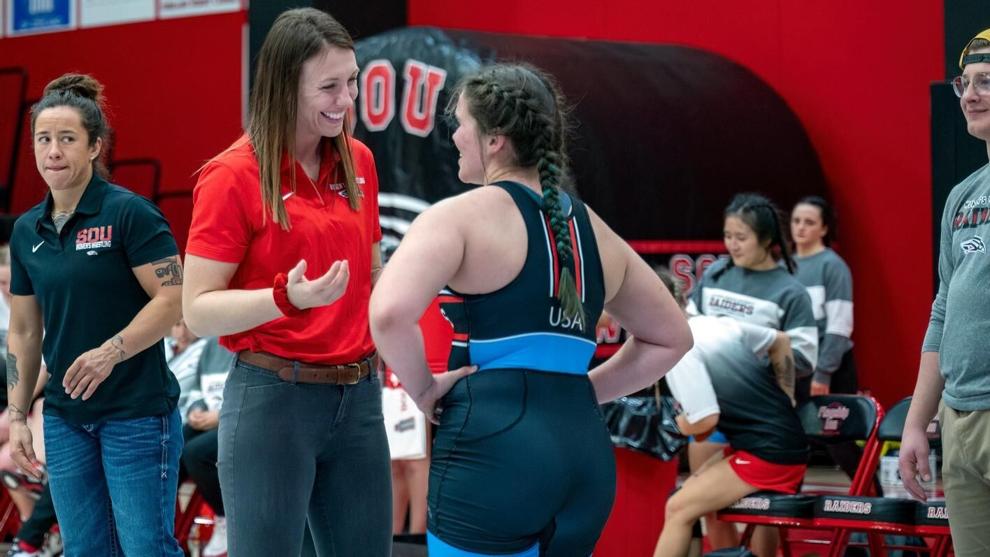 ASHLAND, Ore – Southern Oregon University first-year leader Gabrielle Weyhrich has been named the NAIA Women's Wrestling Coach of the Year after guiding the Raiders to a national title over the weekend in Jamestown, N.D.
A championship parade to celebrate Weyhrich's Raiders is scheduled for 12:30 p.m. Wednesday. Their route will begin at SOU's Education-Psychology Building and go through campus, ending with a trophy presentation in front of Lithia Motors Pavilion.
After entering the inaugural NAIA Championships with a No. 3 ranking, SOU captured the title by a margin of 20 ½ team points behind individual champs Grace Kristoff (191 pounds), Carolina Moreno (123) and Emily Se (143). They left with a total of seven All-Americans, a group that also included second-place Joye Levendusky (170), third-place Esthela Trevino (101), and fourth-place Bella Amaro (136) and Natalie Reyna (109).
Weyhrich, who officially joined SOU on May 31, 2022, took the Raiders to new heights in her first-ever head coaching gig. According to USA Wrestling, she is the first woman to lead a college women's wrestling team to a national tournament championship.
Over the last four months, they completed their first undefeated dual season at 8-0; they won their first NWCA National Duals championship, upsetting No. 2-ranked Grand View (Iowa) in the final; they claimed their first Cascade Conference title, knocking off back-to-back champion and rival Menlo (Calif.); and they finished the job at the NAIA Championships, producing three more top-four placers than any other team.
"I don't coach for awards or recognition, but I would be lying if I said receiving the coach of the year award didn't feel great," Weyhrich said. "It almost feels surreal that I am the first woman ever to coach a team to a college national title in our sport. There have been many sacrifices I've made over the years in this sport as an athlete and now as a coach. There have also been many times when I wanted to quit or even questioned if all the time put in was worth it. My mentor, friend and college head wrestling coach, Sam Schmitz, once wrote a Bible verse in a card after a tough loss I took in the national finals that said: 'Let us not become weary in doing good, for at the proper time we will reap a harvest if we do not give up.' The proper time has finally come, and I finally get a taste of the success I have been working so hard for."
Weyhrich, a product of Fremont, Neb., spent four seasons as an assistant at her alma mater, McKendree University (Ill.), before arriving in Ashland.
She is now among three head coaches currently on staff at SOU who have earned NAIA Coach of the Year honors, Grier Gatlin (cross country/track and field) and Jessica Pistole (softball) being the others.