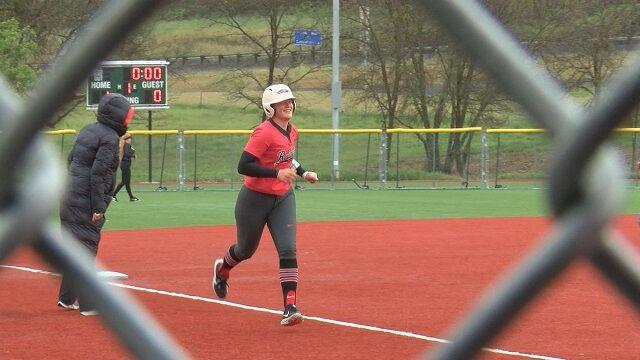 MEDFORD, Ore--- It didn't take long for Riley Donovan to eclipse her sister Harlee Donovan's single-season home run record on Thursday. In a double-header that was played in Medford, Riley Donovan hit her 13th home run of the season, the most in Southern Oregon Softball history. 
"It felt good," said Donovan. "I knew if felt good. It was a lower hit. I didn't know if it was going to hit the top of the fence or not, but it was a good feeling."
The homer went deep to center in the bottom of the 1st. The two-run shot brought in Deja Acosta and gave SOU a 2-0 lead it would never relinquish. 
"I would never say I am looking to hit home runs," said Donovan. "It was definitely on my mind because I didn't even know that I was close to the record until last week when it was the title of the article. Since then, I have just been thinking about it."
Riley and Harlee Donovan now sit first and second on the all-time SOU home run list. This year, Riley has helped cement their legacy as leaders within the program. 
I think that is just a mark of our program getting better but just Riley's work and the work that she has put in," said SOU head coach Jessica Pistole. "Just the type player and leader that she is. No one could deserve it more."
Southern Oregon won the first game of its double header with Carroll, 3-0. 
In the second game, Donovan hit a celebratory home run in the 4th inning. The homer to right gave her team a 5-0 lead. Southern Oregon eventually won 9-0 in six innings. 
On Friday, Southern Oregon will finish the 4-game series with Carroll at University Field. The double-header will begin at 11:00 a.m.