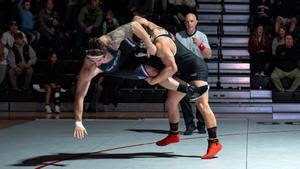 TEAM SCORES (Day 1 of 2) - 1. Menlo (Calif.) 72.5, 2. Eastern Oregon 54.5, 3. Embry-Riddle (Ariz.) 43.5, 4. Southern Oregon 43, 5. Montana State-Northern 42.5, 6. Providence (Mont.) 40, 7. Vanguard (Calif.) 31.5, 8. Corban 28, 9. Simpson (Calif.) 12, 10. Arizona Christian 11, 11. Warner Pacific 0
PRESCOTT, Ariz. - Four Southern Oregon University men's wrestlers advanced to the semifinal round and six more stayed alive Friday on Day 1 of the Cascade Conference Championships presented by U.S. Bank at the Embry-Riddle Activity Center.
Aaron Gandara, the Raiders' No. 6-ranked sophomore at 149 pounds, will take a shot at back-to-back CCC titles after getting through the afternoon unscathed. He'll be joined in the semis by SOU 133-pounder Evan Potter, 157-pounder Dylan Straley, and 197-pounder Andrew Herrera.
The Raiders stand in fourth place with 43 points at the 11-team tournament, just a half-point behind No. 18-ranked Embry-Riddle (Ariz.) and a half-point ahead of No. 20 Montana State-Northern. Last year, when they finished eighth place, they got six wrestlers through to Day 2. They're already just 14 points away from matching that team's total.
No. 7 Menlo (Calif.) is in the lead with 72 ½ points and nine wrestlers in the semis. No. 8 Eastern Oregon, the defending champion, is 18 points back in second place.
Potter, ranked No. 7 at 133, scored a team-high 9 ½ points for SOU with a pin of Embry-Riddle's Adam Stanley in his opener and a 16-0 technical fall over MSU-Northern's Brennon McDermott in the quarterfinals. Gandara contributed 8 ½ points while breezing through his two matches - shutting out both Tomas Jacobo of Simpson (Calif.) in an 11-0 major decision and Jordan Piercy of Corban in a 16-0 technical fall.
Straley, ranked No. 23 at 157, needed just one win to advance and got it in an 8-1 quarterfinal decision over EOU's Vincent Cramer. Herrera, unranked at 197, executed one of the day's biggest upsets with an 8-5 quarterfinal win over EOU's No. 7-ranked Jay Smith. He'd started with a 7-1 decision against Corban's Tyler Moore.
Saturday's action begins at 9 a.m. Pacific Time. Potter will face Menlo's No. 6 Jovan Garcia, the individual responsible for his only loss of the season. Gandara takes on Embry-Riddle's Jonah Chew in his semifinal, Straley gets Menlo's No. 9 Abraham Del Toro, and Herrera will meet Menlo's No. 21 Afton Silvis.
Anthony Perez (141), Derek Ramos (141), Travis Thorpe (157), Jordan Faifai (165), Alex Hernandez (174) and Antonio Garcia (285) are still standing in the consolation brackets. Simon Graeber (133) opened with an upset by fall over No. 8 Joel Avila of Providence but dropped his next two matches.
COMPLETE SOU RESULTS
133 - Simon Graeber
Round 1 - Graeber p. No. 8 Joel Avila, UP, 4:10
Quarterfinals - No. 20 Braden Carson, EOU, dec. Graeber, 8-4
Consolation R2 - Zach Mauras, EOU, dec. Graeber, 8-3.
133 - No. 7 Evan Potter
Round 1 - Potter p. Adam Stanley, ERAU, 4:08
Quarterfinals - Potter tech. fall Brennon McDermott, MSUN, 16-0 (4:02)
141 - Anthony Perez
Quarterfinals - Steven Kroesen, VU, dec. Perez, 4-1
Consolation R2 - Perez major dec. Elian Murrillo, SU, 11-0
141 - Derek Ramos
Round 1 - Ramos p. Elian Murrillo, SU, 4:34
Quarterfinals - Rico Robles, ACU, dec. Ramos, 8-6 (SV)
Consolation R2 - Ramos received a bye
149 - No. 6 Aaron Gandara
Round 1 - Gandara major dec. Tomas Jacobo, SU, 11-0
Quarterfinals - Gandara tech. fall Jordan Piercy, CRB, 16-0 (4:03)
157 - No. 23 Dylan Straley
Quarterfinals - Straley dec. Vincent Cramer, EOU, 8-1
157 - Travis Thorpe
Quarterfinals - No. 25 Aden Graves, UP, dec. Thorpe, 9-3
Consolation R2 - Thorpe received a bye
165 - Jordan Faifai
Round 1 - No. 5 David Rubio, CRB, dec. Faifai, 7-0
Consolation R2 - Faifai dec. Carlo Castagnaro, ACU, 18-11
174 - No. 9 Alex Hernandez
Round 1 - Matthew Bartlett, CRB, dec. Hernandez, 7-6
Consolation R2 - Hernandez p. No. 15 Sheldon Cole, ERAU, 6:09
184 - Kabb Christensen
Round 1 - Kaden Martin, ACU, dec. Christensen, 7-5
Consolation R2 - Austin Vanek, MSUN, p. Christensen, 2:03
197 - Andrew Herrera
Round 1 - Herrera dec. Tyler Moore, CRB, 7-1
Quarterfinals - Herrera dec. No. 7 Jay Smith, EOU, 8-5
285 - No. 24 Antonio Garcia
Round 1 - Garcia dec. Sven Lukner, CRB, 3-2
Quarterfinals - No. 21 Antonio Dacosta, MC, dec. Garcia, 7-3
Consolation R2 - Garcia dec. Ryan Moldenhauer, MSUN, 5-2