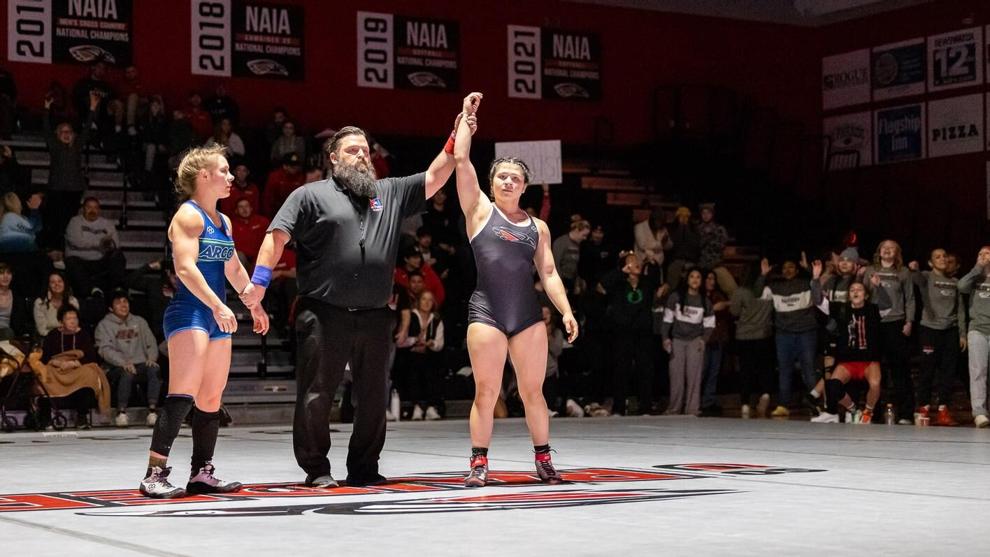 TEAM SCORES (top-5 of 35) – 1. Southern Oregon 160, 2. Life (Ga.) 139.5, 3. Grand View (Iowa) 123.5, 4. Menlo (Calif.) 123, 5. Providence (Mont.) 102
SOU ALL-AMERICANS
1ST PLACE | Carolina Moreno (123), Emily Se (143), Grace Kristoff (191)
2ND PLACE | Joye Levendusky (170)
3RD PLACE | Esthela Trevino (101)
4TH PLACE | Natalie Reyna (109), Bella Amaro (136)
TOURNAMENT CENTRAL
JAMESTOWN, N.D. – Eight years after joining it, Southern Oregon University is officially on top of the NAIA women's wrestling world.
A season full of titles ended aptly when the Raiders celebrated the big one Saturday night at Newman Arena, hoisting the red banner for the first time with a runaway victory and upset of top-ranked Life (Ga.) at the inaugural NAIA Championships. Up by 5 ½ points entering Day 2 of the tournament and by 12 ½ going into the finals, they sealed the outcome when 123-pounder Carolina Moreno, 143-pound Emily Se and 191-pounder Grace Kristoff won individual championships.
The Raiders finished with 160 points to Life's 139 ½ and third-place Grand View (Iowa)'s 123 ½, avenging last year's runner-up finish at the NAIA Invitational. No other team produced more than a single champion, and SOU had a fourth finalist in 170-pounder Joye Levendusky.
Third-place Esthela Trevino (101 pounds) and fourth-place Natalie Reyna (109) and Bella Amaro (136) gave the Raiders a total of seven All-Americans.
Under first-year head coach Gabrielle Weyhrich, the Raiders captured NWCA National Duals, Cascade Conference and NAIA titles for the first time. The team championship is the 12th in any sport in SOU athletics history, and the eighth since 2010.
Moreno, a top-seeded sophomore, became the Raiders' first-ever two-time champ by going back-to-back at 123. She topped off a 26-2 season with a 6-2 win over No. 3 Alana Vivas of Menlo (Calif.) in a rematch of the CCC finals, going up 6-0 in the first period after starting the day with a 10-0 semifinal victory over Menlo's No. 4 Haley Narahara. In two tournament appearances, she's gone 10-0 with six technical falls and a pin.
Se finished her dominant campaign at 25-3 and with a 3-2 upset of Grand View's top-seeded Alexis Gomez in the 143 final. The No. 2-seeded senior, who placed third at 136 a year ago, had three pins and a technical fall on her way to the matchup, opening Saturday's action with a first-round win by fall against No. 3 seed Emma Walker of Campbellsville (Ky.). Three quick points in the second period gave her the upper-hand on Gomez, who defeated Se in an early January dual match.
As the No. 10 seed at 191, Kristoff pulled off the most remarkable run of any Raiders. The senior knocked off four top-seven seeds during the tournament, and was sitting on a comfortable lead when she pinned No. 5 Jaycee Foeller of Central Methodist (Mo.) with a second to go in their final. After winning by fall against No. 2 Jesse Kirby of Cumberlands (Ky.) to cap Friday's action in the quarterfinals, she pulled off a 2-1 semifinal upset of Menlo's No. 3 Tavia Heidelberg-Tillotson, who'd pinned her at the CCC Championships. Kristoff ended the season, her first at SOU, with a 22-5 record.
Levendusky's championship loss to Cumberlands top seed Dymond Guilford was her first of the season against an NAIA opponent. Seeded No. 2 at 170, she scored a 2-1 decision over Grand View's No. 3 Abby McIntyre in the semifinals before Guilford won the final match by fall in the second round, locking up her third title in four years. Levendusky, who had two first-round pins and a technical fall on Friday, finished at 28-2.
At 101, Trevino, the No. 3 seed, lost to Providence's No. 2 Erin Hikiji before recovering with back-to-back wins to secure third place – topping No. 11 Kayla McKinley-Johnson of Menlo by technical fall and No. 4 Elizabeth Dosado of Cumberlands by 9-4 decision. She became a two-time All-American at SOU and went 24-5 as a senior.
Amaro, a freshman seeded No. 6, and Reyna, a senior seeded No. 3, were SOU's sixth and seventh semifinalists. In the consolation semifinals, Amaro upset a No. 5 seed and Reyna beat a No. 8 seed.
A championship parade is planned for Wednesday afternoon. More details will be made available soon.
COMPLETE SOU RESULTS
101 – No. 3 Esthela Trevino (3rd place)
FRIDAY'S RESULTS
Round of 16 – Trevino tech. fall Jolie Lucas, Texas Wesleyan, 10-0 (4:30)
Quarterfinals – Trevino tech. fall No. 6 Esther Walker, Midland, 10-0 (2:21)
SATURDAY'S RESULTS
Semifinals – No. 2 Erin Hikiji, Providence, p. Trevino, 5:51
Consolation Semifinals – Trevino tech. fall No. 11 Kayla McKinley-Johnson, Menlo, 12-2 (4:42)
3rd-Place Match – Trevino dec. No. 4 Elizabeth Dosado, Cumberlands, 9-4
109 – No. 3 Natalie Reyna (4th place)
FRIDAY'S RESULTS
Round of 32 – Reyna tech. fall Jenna Gerhardt, Jamestown, 12-1 (5:45)
Round of 16 – Reyna p. Alyssa Poe-Hatten, Providence, 5:22
Quarterfinals – Reyna tech. fall No. 11 Kory Phillips, Life, 11-0 (4:35)
SATURDAY'S RESULTS
Semifinals – No. 2 Mia Palumbo, Iowa Wesleyan, dec. Reyna, 7-2
Consolation Semifinals – Reyna dec. No. 8 Faith Cole, Iowa Wesleyan, 4-2
3rd-Place Match – No. 5 Jasmine Howard, Texas Wesleyan, tech. fall Reyna, 11-1 (5:11)
109 – No. 6 Macie Stewart
FRIDAY'S RESULTS
Round of 16 – No. 11 Kory Phillips, Life, p. Stewart, 4:44
Consolation – Stewart dec. Barbara Greenberg, Menlo, 6-1
Consolation – No. 8 Faith Cole, Iowa Wesleyan, tech. fall Stewart, 10-0 (1:13)
116 – No. 12 Glory Konecny
FRIDAY'S RESULTS
Round of 16 – Konecny dec. Emma Jones, Indiana Tech, 4-3
Quarterfinals – No. 4 Camille Fournier, Texas Wesleyan, dec. Konecny, 7-2
Consolation – Jamesa Robinson, Brewton Parker, dec. Konecny, 6-0
123 – No. 1 Carolina Moreno (1st place)
FRIDAY'S RESULTS
Round of 32 – Moreno tech. fall Alisha Van Scoy, Saint Mary, 12-0 (2:28)
Round of 16 – Moreno p. Alicia Frank, Providence, 3:42
Quarterfinals – Moreno tech. fall No. 9 Larissa Kaz, Hastings, 20-10 (5:33)
SATURDAY'S RESULTS
Semifinals – Moreno tech. fall No. 4 Haley Narahara, Menlo, 10-0 (3:50)
Championship – Moreno dec. No. 3 Alana Vivas, Menlo, 6-2
130 – Jordynn Robson
FRIDAY'S RESULTS
Round of 16 – No. 2 Sarah Savidge, Life, p. Robson, 1:08
Consolation – Olivia Branson, Baker, dec. Robson, 8-4
136 – No. 6 Bella Amaro (4th place)
FRIDAY'S RESULTS
Round of 32 – Amaro p. Byanca Cook, Avila, 1:44
Round of 16 – Amaro dec. No. 11 Eunique Davis, Missouri Baptist, 6-1
Quarterfinals – Amaro dec. No. 3 Paige Respicio, Providence, 8-6
SATURDAY'S RESULTS
Semifinals – No. 7 Mea Mohler, Texas Wesleyan, dec. Amaro, 2-1
Consolation Semifinals – Amaro dec. No. 5 Aliyah Yates, Cumberlands, 5-1
3rd-Place Match – No. 4 Leidaly Rivera, Brewton Parker, p. Amaro, 4:04
143 – No. 2 Emily Se (1st place)
FRIDAY'S RESULTS
Round of 32 – Se p. Mariz Soliman, Vanguard, 1:17
Round of 16 – Se p. Migdayls Ramos, Brewton Parker, 1:30
Quarterfinals – Se tech. fall No. 10 Desiree Jones, Menlo, 10-0 (5:08)
SATURDAY'S RESULTS
Semifinals – Se p. No. 3 Emma Walker, Campbellsville, 1:15
Championship – Se dec. No. 1 Alexis Gomez, Grand View, 3-2
155 – No. 12 Bailey Dennis
FRIDAY'S RESULTS
Round of 16 – No. 5 Madison Diaz, Grand View, dec. Dennis, 10-1
Consolation – Sierra Chavez, Campbellsville, dec. Dennis, 4-3
170 – No. 2 Joye Levendusky
FRIDAY'S RESULTS
Round of 32 – Levendusky p. Aalyah Villarreal, Texas Wesleyan, 1:16
Round of 16 – Levendusky p. Danielle Saldivar, Missouri Valley, 1:53
Quarterfinals – Levendusky tech. fall No. 10 Bob Geibe, Siena Heights, 10-0 (5:04)
SATURDAY'S RESULTS
Semifinals – Levendusky dec. No. 3 Abby McIntyre, Grand View, 2-1
Championship – No. 1 Dymond Guilford, Cumberlands, p. Levendusky, 3:59
191 – No. 10 Grace Kristoff (1st place)
FRIDAY'S RESULTS
Round of 16 – Kristoff p. No. 7 Catherine Palmieri, Life, 1:29
Quarterfinals – Kristoff p. No. 2 Jesse Kirby, Cumberlands, 4:04
SATURDAY'S RESULTS
Semifinals – Kristoff dec. No. 3 Tavia Heidelberg-Tillotson, Menlo, 2-1
Championship – Kristoff p. No. 5 Jaycee Foeller, Central Methodist, 5:59
191 – Karrah Smith
FRIDAY'S RESULTS
Round of 32 – No. 5 Jaycee Foeller, Central Methodist, tech. fall Smith, 10-0 (3:14)
Consolation – Smith p. No. 6 Riley Dempewolf, Indiana Tech, 1:19
Consolation – Smith p. Gracie Goldsmith-Ding, York, 1:59
Consolation – No. 8 Olivia Brown, Grand View, tech. fall Smith, 10-0 (4:22)