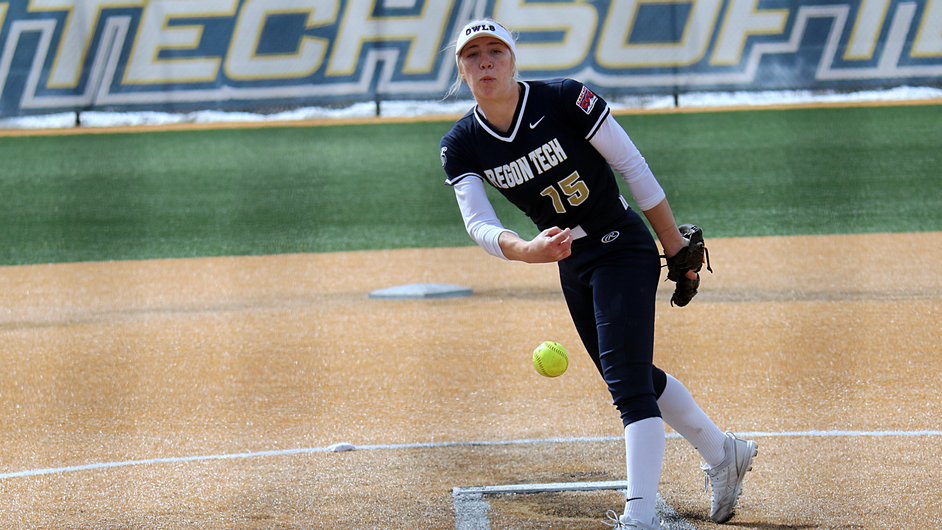 KLAMATH FALLS, Ore. – Mckenzie Staub became the first Oregon Tech pitcher to record two perfect games in a career, retiring all 15 Warner Pacific batters in Game 2 of today's doubleheader, helping the Lady Owls complete a weekend sweep of the Knights at Stilwell Stadium.
Kacie Schmidt tossed a 5-hit shutout in an 8-0 victory in Game 1, before Staub blanked the Knights (1-15, 1-11 CCC), 11-0, in the nightcap.
"I am proud of how our team took care of business this weekend – at the plate, in the circle and defensively," said OIT head coach Greg Stewart. "What more can I say about the outing for Kenzie to cap the weekend, she hit her spots and had command throughout. A perfect way to close the series."
Staub struck out three and allowed just two balls out of the infield in the win. It joins a 5-inning perfect game the junior tossed last season at Carroll College.
The Lady Owls (20-5, 11-1) took a 2-0 lead in the first – as Maggie Buckholz delivered a sacrifice fly and Puakea Milbourne added a run-scoring single. Addison Kashnik made it 3-0 in the second with a long solo home run, with Staub helping herself with an RBI double in the third. OIT broke the game wide open in the fourth, batting around for seven runs – capped by a 2-run double from Marla Goodspeed.
Kaila Mick was 3-for-4 in the Game 2 win, with Jayce Seavert and Goodspeed each recording two hits.
Schmidt was equally impressive in Game 1, striking out seven while not allowing a WPU runner to reach third base.
A Buckholz sacrifice fly gave Tech a 1-0 first inning lead, with the lead growing to 5-0 in the second – as Lexi Klum tripled home a run and Mick added a run-scoring double. OIT ended the game due to the run-rule in the sixth, as Seavert lined an RBI single and scored on a walk-off double from Buckholz.
Buckholz was 3-for-3 with a double, triple and two RBI, with Mick, Klum and Zoe Allen all recording two hits. Sammie Brauckmiller had two hits in the loss for the Knights.
OIT hits the road next weekend for a 4-game series at Northwest University.