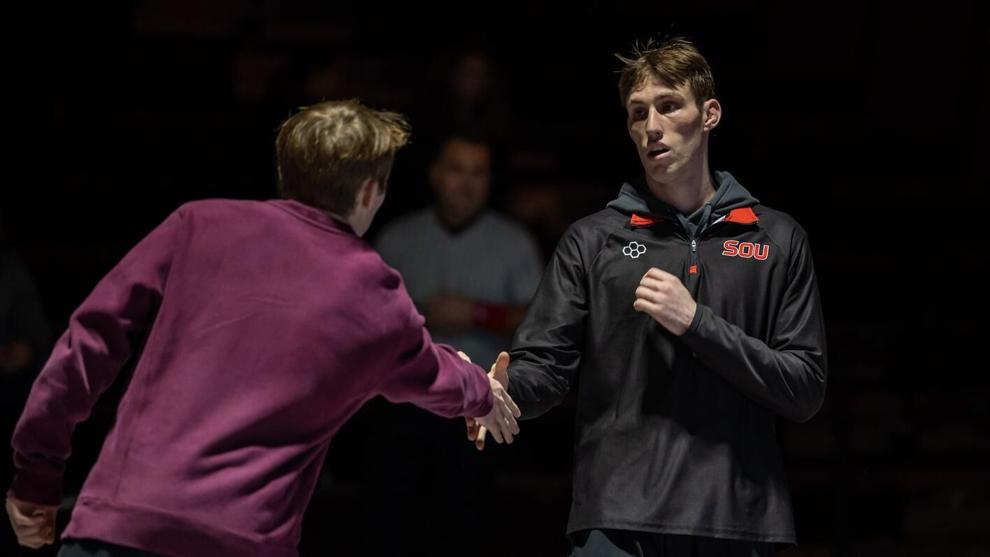 ASHLAND, Ore. -- The No. 20-ranked Southern Oregon men's wrestling team is back home Thursday to face one of the Cascade Conference's top contenders, No. 8 Providence (Mont.), at 7 p.m. inside Bob Riehm Arena.
After nearly two weeks off, the Raiders begin their home stretch with four duals over the next 10 days before jumping into the postseason. This marks their first home dual in over a month, and they'll also be in Ashland to host Corban and San Francisco State on Feb. 4. They've already accumulated their highest win total in five years.
SOU vs. PROVIDENCE: The Raiders and Argos have become regular dual opponents over the last 15 years, with the Argos holding a 9-7 advantage in the series. Providence, which will enter the night with a 6-1 record against NAIA opponents, has bolstered its lineup since taking 28th place at last year's NAIA Championships and will feature six individuals ranked among the top-13 nationally in their respective weight classes. Heavyweight KC Buday, a returning All-American after placing seventh in 2022, is the headliner with a No. 2 ranking. The Argos have won the last three matchups, and their most recent visit to Ashland in 2018-19 was a 51-0 victory against a depleted SOU lineup.
SOU PROBABLE LINEUP:
(C – Cascade Conference ranking; N – NAIA ranking)
125 – Mikey Ladkani
133 – 3C/6N Evan Potter
141 – 5C Derek Ramos
149 – 1C/6N Aaron Gandara
157 – 5C Dylan Straley
165 – 8C Ayden Wolgamott
174 – 8C/14N Alex Hernandez
184 – 8C Kabb Christensen
197 – 9C/24N Andrew Herrera
285 – 5C Antonio Garcia
PROVIDENCE PROBABLE LINEUP:
125 – Devon Altenburg-Lasher
133 – 4C/8N Joel Avila
141 – Caleb Birdwell
149 – Dougie Swanson
157 – 3C/13N Aden Graves
165 – 7C Bridger Hall
174 – 3C/8N Abel Nava
184 – 3C/10N Sawyer Hobbs
197 – 3C/13N Liam Swanson
285 – 1C/2N KC Buday
SOU LINEUP NOTES:
125 – Mikey Ladkani: Took over two weeks ago as SOU's 125 starter … Has a record of 2-5 overall and 1-3 in duals.
133 – Evan Potter: Last year's sixth-place NAIA finisher has topped out at No. 2 in the NAIA rankings this season … Owns a perfect 10-0 dual record with seven straight bonus-point wins … Sits at 15-1 overall with six pins, a technical fall, a major decision and three forfeit victories.
141: Derek Ramos: Enters at 4-5 overall and 2-3 in dual action.
149 – Aaron Gandara: The returning All-American owns a record of 17-5 overall with seven bonus-point wins and five against top-20 opponents … Joins Potter as SOU's second unbeaten dual wrestler at 9-0.
157 – Dylan Straley: Stands at 11-8 overall with four pins and major decisions, and is 5-3 in duals with bonus points in every win … Placed third at the Menlo Invite … Upset MSU-Northern's then-No. 22 Connor Harris in SOU's last home appearance.
165 – Ayden Wolgamott: Coming off a dual win at Arizona Christian … Stands at 4-8 overall and 2-4 in duals.
174 – Alex Hernandez: Enters at 16-6 overall with four pins and 7-3 in duals … Has logged upsets of Eastern Oregon's then-No. 10 Keegan Mulhill and Marian (Ind.)'s then-No. 11 Noah Hollendonner … Won the 174 bracket at the Menlo Invite.
184 – Kabb Christensen: Is 6-5 in duals with a 13-9 overall record that includes seven pins … Has an active three-match winning streak in duals.
197 – Andrew Herrera: At 14-7 overall and 6-5 in duals, has recorded half of his wins by fall … Earned a signature victory over then-No. 7 Jack Servies of Marian … Won the 197 bracket at the Menlo Invite.
285 – Antonio Garcia: Has emerged as a dependable heavyweight and climbed to No. 5 in the CCC rankings … Has a record of 15-7 overall and 9-2 in duals after winning his last three matches.