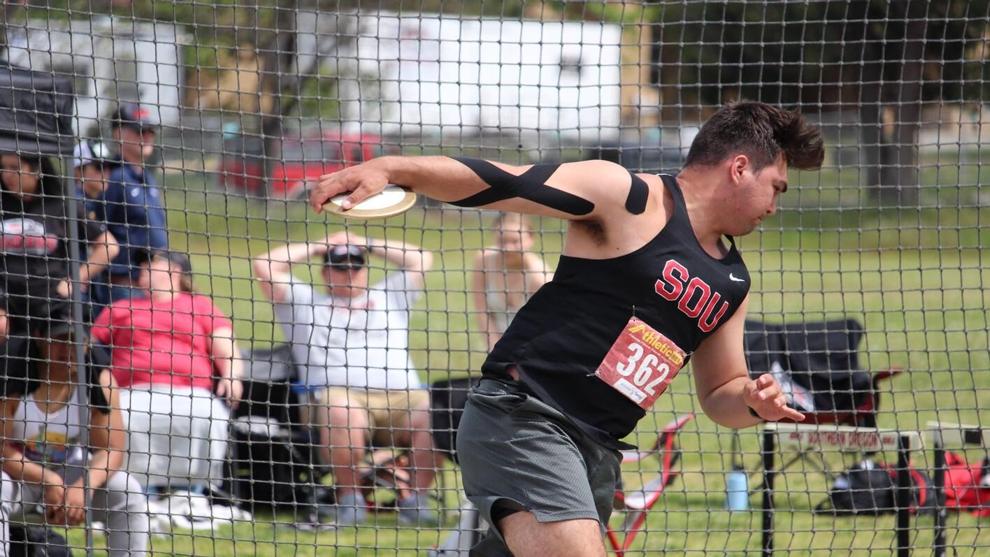 Eugene, Ore. – Andrew Mitchell met an NAIA qualifying standard in the throws for the second week in a row and Cody Le Bel posted a Cascade Conference-best mark in the pole vault to head Southern Oregon's efforts in the Oregon Preview on Saturday at Hayward Field.
Mitchell became a provisional qualifier for the national outdoor meet in the discus by throwing 158 feet 9 inches, placing second of 14 individuals. He also eclipsed the automatic-qualifying standard in the javelin for the second time in as many outings at 194-6. His javelin mark of 197-11, logged last week at Lane, still stands at No. 2 on the NAIA performance list.
Le Bel came up just short of the 'B' standard in the pole vault, clearing 15-3 for fifth place. Carson Le Bel added a third-place showing in the high jump (6-2 ¾) and Luke King was second in the shot put (49-1 ¾).
On the women's side, Nia Collins recorded the CCC's second-fastest 400-meter hurdles time in 1:05.37 for third place in a 12-person field. She was also sixth of 19 in the 100 hurdles at 15.10 to lead the Raiders.
In total, SOU posted 12 CCC women's qualifying marks and 11 men's qualifying marks on the day.
The Raiders are off until the San Francisco State Distance Carnival on March 30.
SOU MEN'S RESULTS
100m
23. Dimitri Williams, 11.51
200m
28. Dimitri Williams, 23.45
400m Hurdles
6. Cade O'Connor, 1:09.23
High Jump
3. Carson Le Bel, 1.90m (6-2 ¾)*
Pole Vault
5. Cody Le Bel, 4.65m (15-3)*
Discus
2. Andrew Mitchell, 48.39m (158-9)^
6. Matthew O'Henley, 41.34m (135-7)*
9. Tre Holmes, 40.40m (132-6)*
11. Luke King, 38.88 (127-6)*
Shot Put
2. Luke King, 14.98m (49-1 ¾)*
7. Tre Holmes, 13.77m (45-2 ¼)*
Javelin
6. Andrew Mitchell, 59.30m (194-6)%
Hammer
5. Wayne Garcia, 53.31m (174-11)*
8. Matthew O'Henley, 51.13m (167-9)*
SOU WOMEN'S RESULTS
200m
25. Aayzia Dumas, 27.00
400m
10. Aayzia Dumas, 1:01.27
100m Hurdles
6. Nia Collins, 15.10*
10. India Collins, 15.84*
11. Sienna Bauer, 16.06*
13. Abi Stevens, 16.25*
18. Jenna Hodges, 17.75
400m Hurdles
3. Nia Collins, 1:05.37*
6. India Ortiz, 1:05.84*
10. India Collins, 1:09.72*
2,000m Steeplechase
4. Lauren Forster, 7:25.79
High Jump
7. Abi Stevens, 1.55m (5-1)*
Long Jump
9. Abi Stevens, 5.00m (16-5)*
10. Jenna Hodges, 5.00m (16-5)*
Triple Jump
5. Sienna Bauer, 10.34m (33-11 ¼)*
Pole Vault
9. India Ortiz, 3.45m (11-3 ¾)*