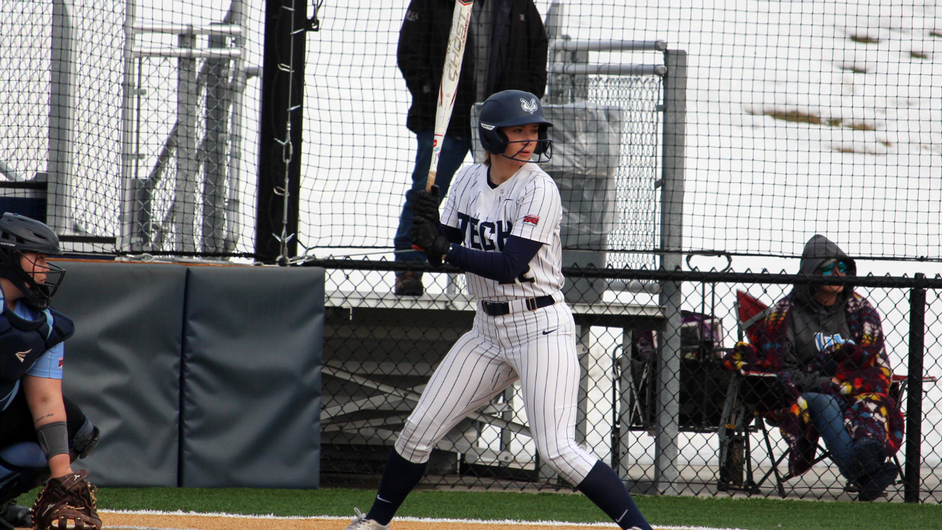 KLAMATH FALLS, Ore. – Oregon Tech scored at least one run in every inning of a doubleheader against Warner Pacific, as the No. 5-ranked Lady Owls rolled to 15-2 and 14-2 victories at Stilwell Stadium.
Addison Kachnik finished 4-for-5 with six RBI and Maggie Buckholz hit a grand slam and knocked in six, as OIT (18-5, 10-1 CCC) ran their win streak to six and took over sole-possession of first-place in the Cascade Conference standings.
Tech dominated the day – scoring the first eight runs of the opener, while using a 9-run first inning to break open the nightcap.
"I am proud of these ladies," said OIT head coach Greg Stewart. "We are hitting and pitching really well."
Jayce Seavert opened the scoring with a sacrifice fly, delivering Zoe Allen from third base after the sophomore had her leadoff at bat prolonged by an illegal pitch. An inning later, Kachnik made it 2-0 with a ringing RBI double – scoring on a long 2-run homer from fellow freshman, Nita Cook.
The lead grew to 8-0 in the third – as the Owls capitalized on two errors – adding an RBI single from Puakea Milbourne and a Mckenzie Staub run-scoring double.
After the Knights (1-13, 1-10) broke through on a solo homer from Carrigan Foster, the Lady Owls batted around for seven fourth inning runs. Buckholz had the big blast, a long grand slam to right, with Kachnik adding a 2-run double. OIT took advantage of four walks, two hit by pitches and two wild pitches in the frame.
Kacie Schmidt earned her ninth win of the season, striking out six, with Staub and Kachnik each going 2-for-3.  Ashley Hawkins finished 2-for-2 in the loss for WPU.
The big first inning put Game 2 out of reach quickly – as OIT sent 13 batters to the plate. An Allen leadoff single was followed by a Kaila Mick RBI double. Kachnik made it 5-0 with a 2-run single, Allen added a 2-run single of her own, with Mick tripling home a run and Seavert knocking her home with an RBI double.
Staub earned the complete game win, striking out seven – with Mick finishing 3-for-4 with a double, triple and three RBI. Allen was 2-for-4 with three RBI, Kachnik was 2-for-2 with three RBI, with Jensen Becker going 2-for-2 with a triple and RBI.
The two teams close out the series tomorrow with an 11 a.m. doubleheader.