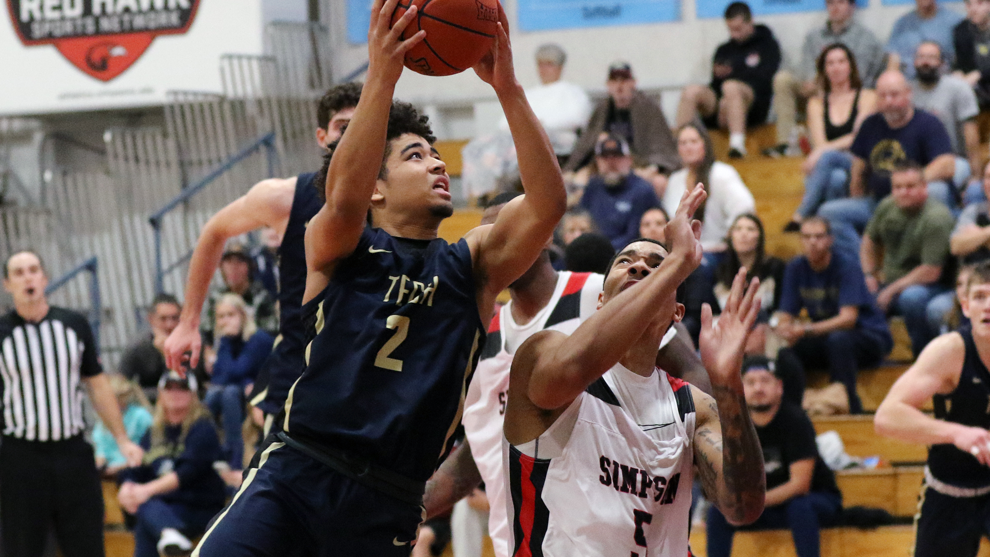 ASHLAND, Ore. – Jamison Guerra converted a driving lay-up with 47 seconds remaining, breaking a 57-57 tie, as Oregon Tech withstood three Southern Oregon chances to tie or win in the waning moments in a 60-57 victory at Lithia Motors Pavilion.
The Hustlin' Owls (9-11, 6-8 CCC) avenged a homecourt loss to the Raiders from December – holding Sou to two made field goals over the final seven minutes of the game.
Southern (12-8, 8-6) had their opportunities late – as Tez Allen missed a go-ahead 3-pointer with 17 seconds left and off the ensuing scrum, Josh Meyer missed a tying lay-up. The rebound popped out into the corner, with Atmar Mundu missing a 3-pointer and Tech secured the rebound.
Keegan Shivers made 1-of-2 free throws to give SOU a late chance to tie – but Shivers denied Will Graves a clean look from 3-point range at the buzzer, allowing the Owls to survive.
"I felt like we were walking across a desert and stumbled across a lake," said OIT head coach Justin Parnell. "We found a little lightning in a bottle. I was trying to call a time out late, but Guerra saw something and waved me off and took the ball to the basket and scored. It was and unbelievable play by a kid who is only a sophomore."
Tech dominated the first half, as Shivers hit a pair of 3's in a 14-2 run that gave the Owls their largest lead of the night at 36-20.
The lead was 44-28 early in the second half when the well went dry for OIT – making one field goal over a 12-minute stretch. SOU took full advantage, as Graves scored 11 points in a 17-2 run that got the hosts within 46-45, eventually pulling even at 48-48 on a Mundu 3-pointer.
The visitors regained a 57-53 lead on a Shiver triple, only Dominic McGarvey to hammer home an alley-oop dunk and tip home a put back to even the score – setting up the finish.
Shivers finished the night with 17 points, nine rebounds and five assists, while Guerra scored 15 points with eight assists. Both Joey Potts and Kaison Faust had eight points and six boards, with Kody Bauman leading the way with nine rebounds.
The five SOU starters accounted for all 57 points – as Allen scored 16 points and Mundu added 13. The Raiders converted just 34-percent of their field goal tries, including a 7-for-32 clip from 3-point range.
OIT returns home this weekend for key match-ups against Multnomah and Warner Pacific.