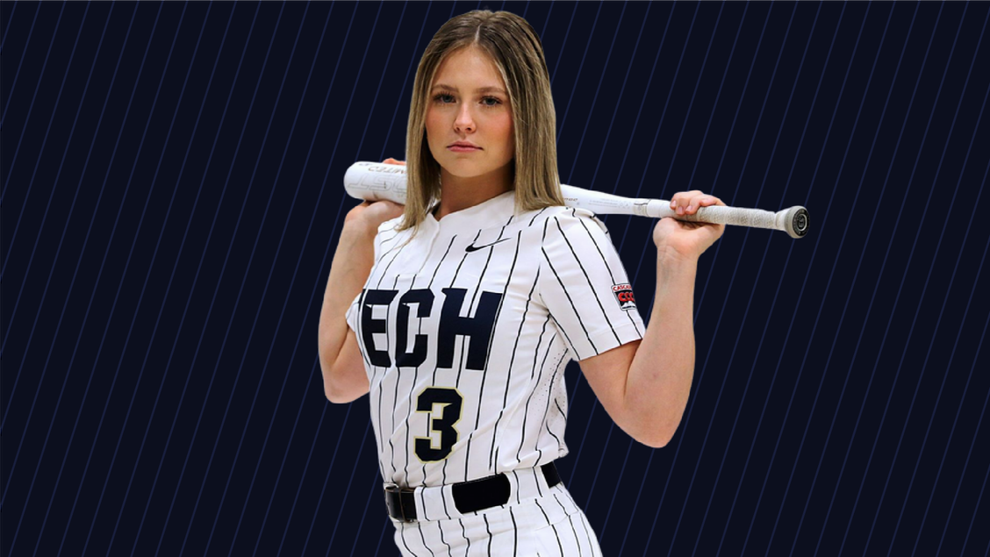 KLAMATH FALLS, Ore. – Three consecutive NAIA Softball World Series appearances, back-to-back Cascade Conference Tournament titles and a 2022 CCC regular-season crown have helped the Oregon Tech softball team earn top-billing in the 2023 CCC Preseason Poll. Despite losing four key seniors from a record-setting 50-13 team, the Lady Owls are poised for another postseason run.
Tech will have a new-look infield this season – as a pair of mainstays graduated, plus a third is moving to a new position.
"We had a fantastic defense last year breaking our school record for fielding percentage (.977 in over 1,700 chances) which ranked in the NAIA's Top-5," said OIT head coach Greg Stewart.  
Two-year starting first-baseman, Kennedy Jantzi, has graduated, as has 3-year starting third-baseman Aubrie Businger. Jantzi earned All-America honors and CCC Gold Glove accolades as a senior, clubbing 11 home runs and adding 61 RBI, while making one error in over 400 defensive chances. Businger, a 2021 All-American, earned CCC Gold Glove honors as a senior, recording a .965 fielding percentage at the hot corner, while offensively, drove in 39 runs.
In addition, Gold Glove second-baseman, Jayce Seavert, has shifted positions and projects to be the Lady Owls starting catcher.
"Graduating Kennedy Jantzi and Aubrie Businger gives us tough shoes to fill offensively and defensively," Stewart said. "Kennedy gave us consistent power and RBI numbers with a great glove at first. Aubrie was a good hitter who posted strong career numbers but was hands down one of the best defensive third baseman I have had the pleasure to coach in 27 years of softball or baseball."
The mainstay of the group is shortstop, Kaila Mick. The 3-year starter earned her second-consecutive All-CCC honor in 2022, hitting .376 with 14 doubles, five triples and 34 RBI, while leading the squad with 23 stolen bases. Defensively, Mick became just the 23rd player in OIT history to post 100-or-more assists in a year.
"Kaila is one of the best hitters and on-base percentage players in the NAIA and has consistently made great plays at shortstop to give us a strong anchor to our infield," Stewart said. "She battled through a hand injury most of last season but because of her toughness, she was able to still lead our team in many offensive categories while playing good defense."
Replacing Seavert's production at second base will be tough, but the Owls plan to look at two underclassmen for the bulk of the playing time. Initially, freshman Nita Cook will get the bulk of the reps after a solid fall season. Cook, a 1A/2A all-state selection from Vernonia High, was a 2-time Northwest League Player of the Year. Also in the mix is 2-sport athlete, Olivia Sprague, who is currently playing basketball and leading the CCC in scoring. Sprague was used primarily as a pinch runner over the final two months of the 2022 season.
"We have two very talented athletes who will get time at second base this year with Nita Cook coming off a strong fall showing," Stewart remarked. "I feel like our depth and options are good and after seeing more game reps, it will come down to a combination of defense and offensive production determining that spot in the lineup."
Stewart will look to underclassmen at the corners, as highly touted recruits Addison Kachnik and Puakea Milbourne look to make immediate impacts. Kachnik, a freshman from Mountainside High, was the Oregon 6A Player of the Year in 2022, hitting 10 home runs and finishing with a batting average above .500. Milbourne, from Kapolei High in Hawaii, earned all-state honors in Hawaii's highest classification, hitting .481 as a senior.  Look for pitcher Kacie Schmidt to also see time when she is not in the circle, as the junior hit two homers and drove in seven runs in limited at bats in 2022.
"Even though we will be young in these spots, we have some players who could boast some great offensive numbers over their careers," Stewart said. "Puakea and Addison can play both corners and they give us instant power potential in the middle of our line-up. Kacie has become one of our top pitchers but as she continues to improve at the plate, she will also get some opportunities to play first or DP."
The Lady Owls will open the season with 10 games on the road – beginning next weekend with a 3-day tour of Arizona. Tech meets OUAZ next Thursday, Arizona Christian next Friday and Embry-Riddle next Saturday to round out the opening series.