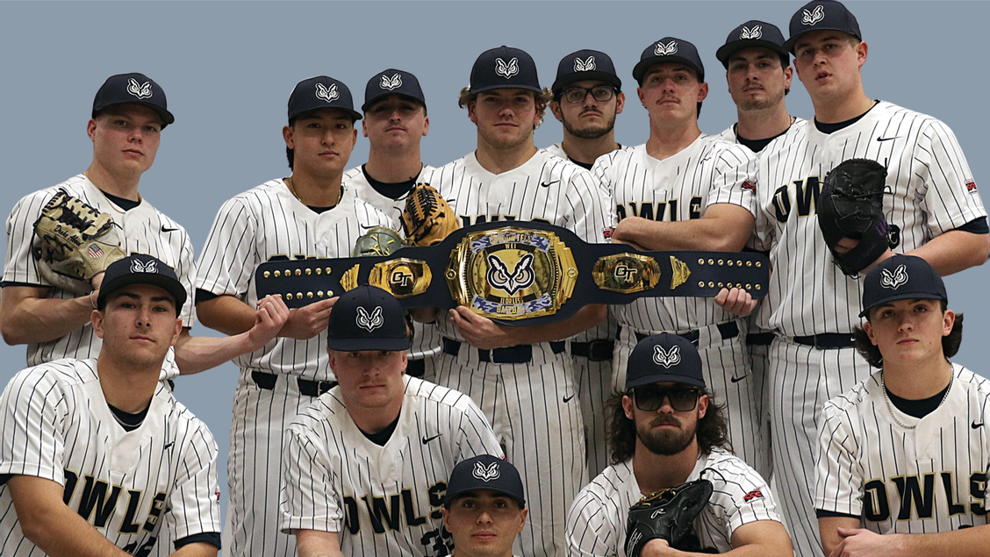 KLAMATH FALLS, Ore. – Posting their best team ERA in over a decade, the Oregon Tech pitching staff helped the Hustlin' Owls record a 30-win season in 2022. With key components from that squad returning to the hill, along with an outstanding group of newcomers, OIT will have the depth on the mound needed to compete for a Cascade Conference title.
The Owls lose two starters and two relievers from the 2022 club – Dylan Grogan, Jacob Miller, Alex Bratton and Brodie Maloney. Grogan was an anchor to the rotation, posting a 7-2 record and 3.67 ERA, establishing a new school-record with 78 strikeouts; Miller was 4-7 with a 5.77 ERA in 68 innings, while Bratton and Maloney combined for 32 appearances and seven saves out of the pen.
Despite the losses – veteran leadership will pace the staff.
Junior Patrick Arman headlines the group, as the 2021 All-CCC pick was 4-4 with a 3.94 ERA in 2022, striking out 66 batters in 77 innings. The hard-throwing right-hander will be joined by fellow junior, Cody Dubray, as the lefty had a breakout 2022 season, going 7-3 with a team-best 2.67 ERA, striking out 76 batters and posting a stellar .210 opponents' batting average.
"Arman is looking stronger than ever, and we anticipate he'll be back on track anchoring our staff," said OIT head coach Jacob Garsez. "Cody made significant progress last year. He has outstanding stuff and his pitches keep improving – we are excited about his future on the mound."
Look for second-year hurler Lalo Barraza to lockdown a rotation spot after missing 2022 due to injury. The sophomore right-hander had a 4-1 record and a 1.91 ERA at Bakersfield CC before transferring to Tech. Also in the mix for a starting slot is senior Brenden Talonen, an experienced right-hander who made 13 appearances out of the pen in 2022, picking up two saves.
"Lalo was our top pitching signee from last year and missed the season due to injury," Garsez said. "He is as competitive as it gets. Talonen put up a 0.69 ERA as a starter at Feather River and has been battling back from injuries over the last two years and is finally getting there and is a front-runner for a rotation spot.
The Owls will have a deep bullpen – including three left-handers – giving Garsez options throughout a 4-game series.
Returning junior right-handers Braeden Bellum, Ryan Poling and Cruz Hamilton will be among those called upon early. Bellum posted 39 strikeouts against eight walks in 45 innings last season; Poling has a career 2.40 ERA in 13 career appearances; while Hamilton, a power-pitcher, struck out 13 batters in nine innings in 2022.
"Bellum is arguably our most talented arm, but he has dealt with injuries that sidelined him for a portion of last season," Garsez said. "He has the stuff to be a starter, however, will be best used out of the pen. Poling is the most improved pitcher we have. We thought two years ago as a freshman he had the stuff to pitch for us someday and now is throwing really well, hitting the mid-80s with his fastball and will be among the first out of the pen to start the year. Hamilton might be our most gifted arm, as he can touch 90 with arm-side run and his slider is really good. If he continues to command the strike zone, he will throw important innings for us."
Five newcomers are also among the top bullpen candidates – transfers Riley Cronin, Cade Castillo and Drake Aboud, along with freshmen Landon Cheney and Dylan Huddle.
Cronin, who will also see time in the outfield, was a closer at the College of Marin, finishing last season 3-2 with five saves. Castillo posted four saves at Ohlone CC, recording 38 strikeouts in 38 innings of work. Aboud, a left-hander from Umpqua CC, was also key out the pen, recording four saves in 2022. Cheney heads to the Basin as Idaho's 2A Player of the Year, going 6-0 with a 0.19 ERA, helping Nampa Christian win back-to-back state titles, while Huddle, a lefty, was the top pitcher at Ralston Valley High in Colorado.
"Cronin is a 2-way guy who is extremely competitive and initially will be our go-to guy in the bullpen," Garsez said. "Castillo will provide a completely different look and will be counted on for key innings, while Aboud is a soft lefty with a funky delivery and is throwing strikes. "We anticipate both Cheney and Huddle throwing important innings for us. They showed maturity in the fall and have the capability and competitiveness to get hitters out."
Three other pitchers will provide depth in the bullpen – right-handers Jaden Domingsel and Nick Garcia, along with left-hander Trevor Thissell. Domingsel made two appearances in 2022, while Garcia missed the season due to injury after competing previously at West Valley College. Thissell has not seen game action since the 2020 campaign.
OIT opens the regular-season next Friday, playing the first of two doubleheaders at Jessup University in California, with the home opener set for March 11 vs. Bushnell.