GRANTS PASS, Ore. — Dutch Bros cofounder Travis Boersma's multi-million dollar entertainment and horse racing venture in Grants Pass could soon shut down before it ever opens its doors without movement soon from Oregon officials, Boersma told NewsWatch 12 on Tuesday.
Boersma's firm TMB Racing was instrumental in bringing commercial horse racing to a revitalized Grants Pass Downs after the closure of Portland Meadows in 2019. With racing back in business, Boersma then began work on The Flying Lark, a complex near the Downs that would offer "gaming, entertainment and dining."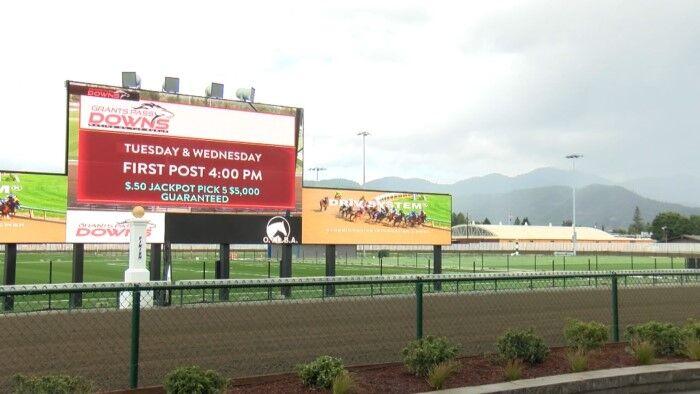 Key to The Flying Lark concept were 225 historical horse racing (HHR) machines — something like a cross between a slot machine and a real horse race, where people wager on videos of past races.
While casinos are prohibited under the Oregon constitution outside of Tribal reservations, a 2013 law provided a carve-out for certain methods of historical race betting. Boersma says he also helped shape a bill that passed the Oregon legislature in 2021, SB 165, which ensures that multiple stakeholders get a taste of the funds generated by both live and historical horse racing. The bill was signed into law by Governor Brown in July.
According to Boersma, he broke ground on The Flying Lark with the understanding that everyone was on board.
"We've dotted every 'i,' we've crossed every 't' — we've had numerous conversations with Tribe, with state and political figures, soup-to-nuts, top-to-bottom over the course of the last three years and there has not once been the mention, the idea that we would not be able to open our doors," Boersma said.
With dozens of new employees hired late last year and construction nearly finished, The Flying Lark is missing just one thing — approval for the HHR machines from the Oregon Racing Commission. But consideration of The Flying Lark's request has been delayed, which the Willamette Week reported in November was requested by Governor Kate Brown at the urging of several Oregon Tribes.
TMB Racing filed a legal petition against the Oregon Racing Commission at the end of December, calling for the ORC to hurry up and render its decision.
Boersma says he's baffled by the sudden indecision, insisting that HHR machines are legal and there is plenty of precedence for having a venue similarly equipped.
"[Portland Meadows] not only had HHR machines, 150 of them on the floor, they had a poker room, they had Oregon Lottery and Keno," Boersma said. "All we want to do is historic racing machines — and the purpose, the reason that they exist is to help keep horse racing alive."
If resistance to The Flying Lark is coming from Oregon's Tribes, Boersma says that he's reached out their representatives to offer partnerships in the venture with "nothing but upside and benefit, financially." While Boersma said those conversations were ongoing up until the week before Christmas, he did not indicate if there had been any sign of movement.
The project currently employs 165 people. Boersma said that, while they can afford to keep paying those workers through February, their jobs will eventually vanish without a green light from the Oregon Racing Commission.
"That is probably the most painful part about this, for me," Boersma said. "I had a conversation with them last week and I had to let them know what cause and effect are here, and it's catastrophic for people and their lives."
Boersma said that he's not motivated by turning a profit from the venture, but to suffuse money back into horse racing and keep the sport alive in Oregon.
Dutch Bros, the coffee cart that Boersma co-founded with his brother in 1992, became a publicly traded company in September — instantly becoming the largest initial public offering in Oregon history and making Boersma a newly-minted billionaire.