PORTLAND, Ore. -- Oregon Health Authority is changing a few of its statistics today.
Oregon Health Authority (OHA) issued its COVID-19 Biweekly Data Report today, showing a decrease in COVID-19-related cases, hospitalizations and deaths since the previous biweekly period.
It says that starting today its Long-Term Care Facility COVID-19 Vaccination data will show the percentage of staff and residents who are current with COVID-19 vaccination and residents who have received a vaccine second booster dose.  Long-term care facilities are required to report COVID-19 vaccination data to the state.
OHA says that during the week of June 6 – June 12, 2022, 50% of staff and 73% of residents were reported as up to date with their COVID-19 vaccines. It says 26% of residents were reported as receiving a vaccine second booster dose.  OHA considers people are up to date with COVID-19 vaccination when they have received all doses in the primary series and one booster dose, when eligible, according to the Centers for Disease Control and Prevention's (CDC) National Healthcare Safety Network.
OHA says, "Progress has been made by Oregon long-term care facilities in surpassing the state 80% benchmark for COVID-19 primary series vaccination, especially among staff, with 87% of staff completing their primary vaccine series compared to 62% last year."
Also starting today, OHA's COVID-19 reports are using 2021 population data from Portland State University's (PSU) Population Research Center and 2020 data from the U.S. Census Bureau's American Community Survey (ACS).  It is using the new data to calculate coronavirus-related rates, such as case rates and vaccination.  OHA was using 2020 population data from PSU and 2019 data from the ACS to calculate rates.
OHA says case rates by gender, age, race, ethnicity and county will be affected, and vaccination rates by gender, age, county and zip code will be affected, noting, "Case, testing and vaccination rates may shift slightly because of this change."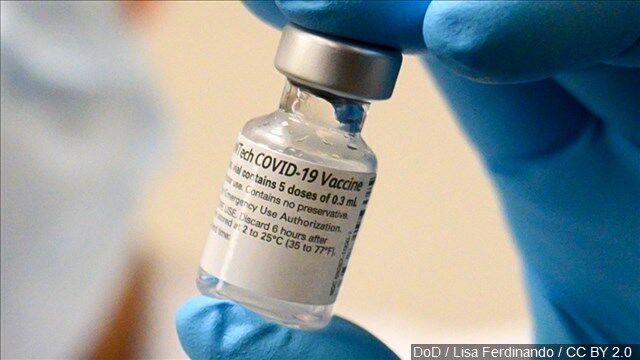 For today's biweekly report OHA reported 20,451 new cases of COVID-19 from June 12 to June 25, a 2.8% decrease over the previous biweekly total of 21,038.  It says that during the last six weeks, reported hospitalizations and deaths have increased slightly.
It also reports that during the two-week period of June 12 to June 25, test positivity was 13.6%, up from 12.3% in the previous two-week period.
Today's COVID-19 Biweekly Outbreak Report also shows 193 active outbreaks in care facilities, senior living communities and congregate care living settings with three or more confirmed COVID-19 cases or one or more COVID-19-related deaths.
OHA says today the pace of its COVID-19 hospitalization and hospital capacity reporting will change starting July 1 such that, "Data on the COVID-19 hospital capacity dashboards, as well as counts of current COVID-19-positive hospitalized patients published on the COVID-19 Update dashboard and on social media, will be updated weekly on Wednesdays," starting next week.