JACKSON COUNTY, Ore. & SAN FRANCISCO, Cal. -- California-based Pacific Forest Trust says today it has bought more than 1,000 acres in Southern Oregon as part of its preservation efforts.
Pacific Forest Trust (PFT) says it has acquired 1,120 acres of privately owned forest along the Siskiyou Crest near Mount Ashland and will manage the land to reduce the threats of wildfires and habitat loss caused by climate change.
It says the property had faced prospective logging, subdivision and residential development, and now it will serve as the Mount Ashland Demonstration Forest (MADF).
PFT calls MADF, "southern Oregon's first demonstration forest dedicated to developing replicable forest management practices that foster climate resilience. It is located on the slopes of Mount Ashland, a region at high risk of extreme wildfire. The nearby Almeda Fire in 2020 burned 3,000 acres and destroyed over 2,600 homes, making it the most destructive fire in Oregon history."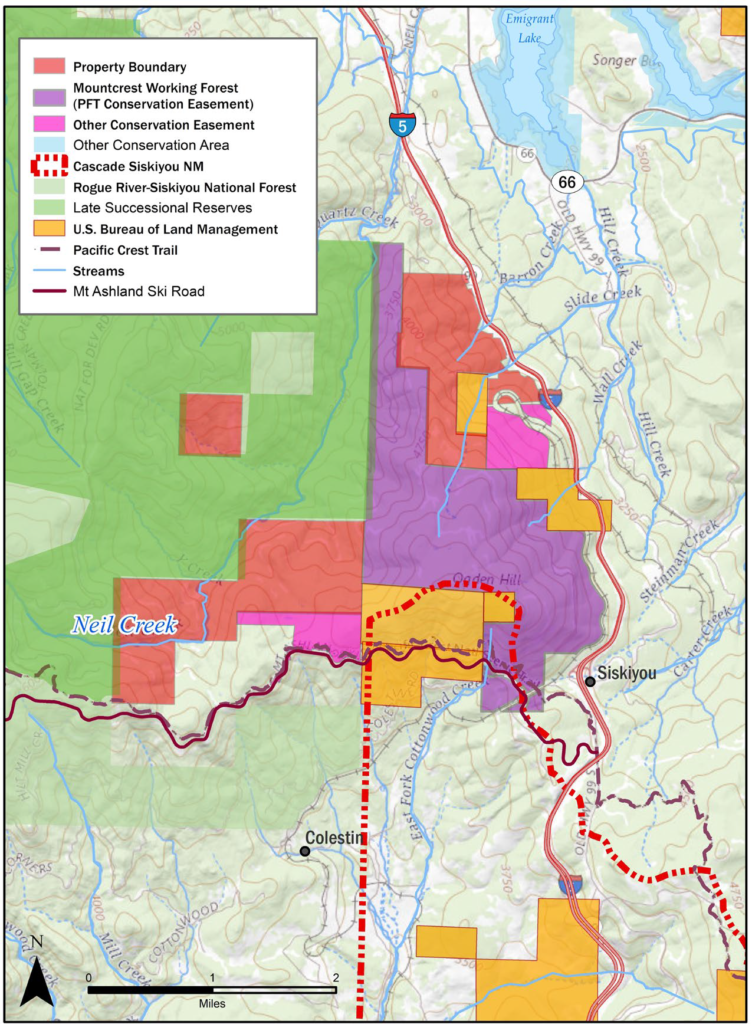 Map narrative from PFT:  "Mount Ashland Demonstration Forest spans 1,120 acres in the upper Rogue River basin on Oregon's Siskiyou Crest. This map illustrates the strategic crossroads position of the Property shown in red: adjacent to the conserved Mountcrest Forest shown in purple and assuring enduring multi-directional connections with the Cascade Siskiyou National Monument, Rogue River-Siskiyou National Forest, and other protected lands. The project creates an integrated landscape of properties being managed across boundaries for climate adaptation, critical habitat, and watershed values.
Preventing fragmentation of large, intact landscapes is key to climate resilience. Mount Ashland Demonstration Forest's strategic location connecting very large, natural landscapes will provide a refuge in a hotter, drier world and sustain a cross-boundary 'super wild-way' already in use by wolves, Pacific fishers, and other wide-ranging creatures. The project will preserve this large property's outstanding biotic and topographic diversity and abundant water resources critical to wildlife and people."
Pacific Forest Trust says it "will manage the forest for 'good fire' -- low intensity, natural fires that are more characteristic of the region than out-of-control fires like the Almeda. Strategies will include managed burning based on indigenous fire management practices and restoring more natural species composition with fire-resilient species such as cedar, pine, and Douglas firs."
PFT says it bought the property from Siskiyou Timberlands, a subsidiary of timberland investment firm Chinook Forest Partners, funded by a $1.1-million grant from the Oregon Watershed Enhancement Board (OWEB) and a $413,125 grant from the Pacific Northwest Resilient Landscapes Initiative.
PFT lists OWEB, Oregon Department of Fish & Wildlife, U.S. Fish & Wildlife Service and the Land Trust Alliance as its partners in procuring the property.
It says the land is home to salmon, Northern spotted owl, grey wolf and black bear populations noting, "Southern Oregon's Siskiyou region is home to globally important biodiversity, as recognized by the Cascade Siskiyou National Monument (CSNM). This biodiversity continues along the Siskiyou Crest where elevational gradient, soils, and aspect create a rich suite of habitats. Conserving and connecting the span of the Siskiyou Crest is a long-term goal for PFT, ensuring that this amazing array of plants and wildlife have safe, secure passage from east to west, and north to south, across both public and private lands. With climate change warming the region, this mid-elevation forest bridge is even more important as a refuge for myriad species on the move."

PFT says it entered into an agreement in 2020 with Chinook Forest Partners to purchase this property along the Siskiyou Crest, extending a conserved corridor from the CSNM to the Rogue River-Siskiyou National Forest.
Its intention to restore and manage "the property's forest, meadows, wetlands, and woodlands will help them be more resilient to drought and wildfires. As the devastating 2020 Almeda Fire illustrated, this area is at high risk of extreme fire with climate change," and, "can help restore forests to a more climate adaptive, resilient state."
Pacific Forest Trust is a 501(c)(3) nonprofit charitable organization that creates "economic incentives that reward private forest owners for conserving their lands and practicing sustainable forestry. We have helped shape regional and national forest conservation and climate policies, all in an effort to save wildlife and their habitats, create effective climate change solutions, conserve intact forested landscapes, and protect natural water sources."