MERLIN, Ore. -- The Rum Creek Fire is getting aerial attack again as firefighters achieve 17% containment on the deadly wildfire in northern Josephine County.  The fire's size today is reported at 18,385 acres.
A cold weather front across the area yesterday late Friday brought wind and gusts that risked aggressively spreading the fire.  The fire's Unified Command (UC) says fire crews generally held steady through Friday's Red Flag Alert, despite strong wind along ridges and in drainages with a west-east alignment, with gusts recorded up to 25 miles per hour.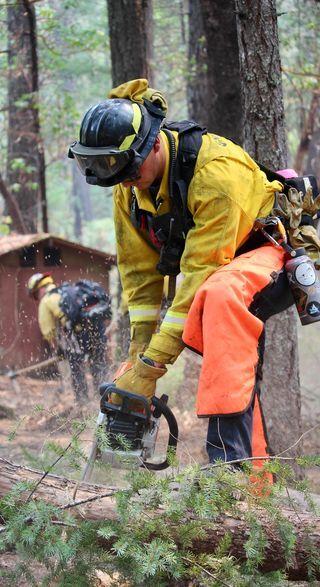 UC says, "The fire stayed within the primary fire lines except for two spot fires, near Crawford House by Galice and west of McKnabe Creek. Firefighters attacked these spot fires and kept them small. Today, aircraft will use infrared imaging to search for additional spot fires."
Today's firefighting resources also include 2,122 personnel to fight the fire that killed one firefighter and burned one home and two other structures.  25-year-old Talent firefighter Logan Taylor died August 18, 2022, fighting the wildfire when a tree hit him one day after lightning started the Rum Creek Fire.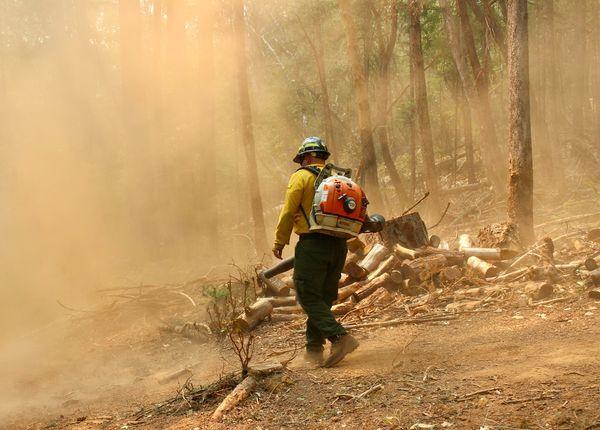 US says most burn acreage gains for the fire are coming from strategic firing operations inside the primary control lines because, "By carefully igniting remaining fuels inside fire lines, firefighters have more control over the location and rate of fire spread. These operations strengthen the direct fire lines. Crews are using hand ignition with drip torches and aerial ignitions by the Unmanned Aerial System. Strategic firings usually result in a low-intensity burn, consuming the ground fuels but not the trees."
It says fire personnel completed a strategic firing operation near Grave Creek yesterday, connecting a critical section of fire perimeter.  UC says direct lines are holding the fire, restricting spread further to the east.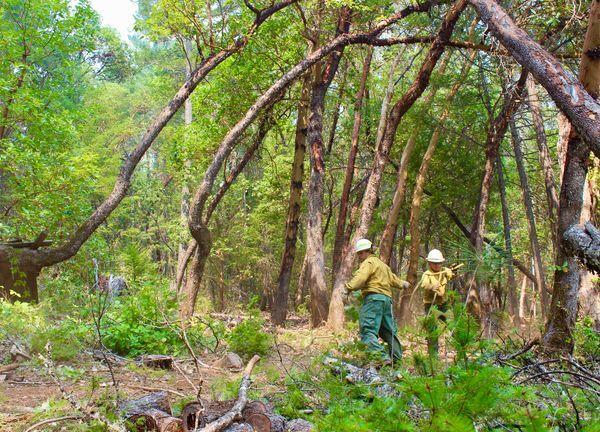 It says where possible firefighters are using lines hand-dug directly on the edge of the fire, combined with strategic firings, to stop advancement and, "In other areas where the fire is burning more intensely or fuels are more abundant, a direct hand line is unlikely to hold. In these areas, firefighters are using indirect lines constructed by dozers and existing roads as containment lines. Fire personnel are mopping up residual heat near the fire lines on all areas of the fire."
It says firefighters on the west edge of the wildfire have completed strategic burning for more than half of the containment line between Mount Peavine and the Rogue River to the north, working until midnight Friday when humidity increased because, "At that point, fine fuels like grasses and brush absorbed enough moisture and would not burn well."  It says firing will happen today when fuel and weather conditions are appropriate.
Office of State Fire Marshal personnel continue to mop up remaining hot spots near structures, patrolling areas along Galice Road for possible spot fires caused by wind-blown embers. Firefighters are working on structure assessment and planning in the Crow Road, Hugo Road, Quartz Creek Road and Picket Creek Road neighborhoods southeast of the fire.
Evacuations: Existing evacuation orders and notifications remain in place. An interactive map showing evacuation levels according to address can be found at //JosephineCounty.gov/FireMap. For the most current evacuation information and resources, go to Josephine County Incident Information (rvem.org).
Road control: Josephine County Sheriff's Office has established traffic access points around the fire zone. Road blocks are located at Galice Road near Crow Road; Galice Store; Bear Camp Road at Peavine (top intersection); Lower Grave Creek Road at Angora Creek (Grays Ranch); Quartz Creek Road about 3 miles up (end of County maintenance); Dutch Henry Road near Kelsey Creek (42 44'56.2/123 40'35.4); and Hog Creek at Galice Road. The National Guard is staffing the roadblocks. Only residents (must show proof of residency) and permitted users will be allowed through.
River status: The Wild section of the Rogue River below Grave Creek will remain open unless fire conditions warrant closure. River status is determined on a day-to-day basis. Please call 541-471-6535 for more information regarding Rogue River permits. No new boating permits will be issued at this time.