PORTLAND, Ore. -- Oregon Wildlife Foundation is advising drivers as they travel more for seasonal holidays, "wildlife are on the move, too."
Oregon Wildlife Foundation (OWF) says this fall's wildlife migration comes as more people are traveling post-pandemic.
OWF says during an average year, "more than 6,000 wildlife-vehicle collisions are reported," with peaks in October and November.
OWF cites one source says more than 60% of U.S. residents plan to travel this fall, so "the probability of wildlife-vehicle collisions increases as traffic reaches pre-pandemic levels and the coinciding annual migration of deer and elk puts them on Oregon highways and roads."
OWF Executive Director Tim Greseth says, "Busy roads plus Fall migration equal exponential danger – not only for wildlife, but for people, too. When you're traveling this holiday season, stay alert for animals crossing roadways to get to their lower-elevation winter homes. We all have a role to play in reducing collisions with wildlife."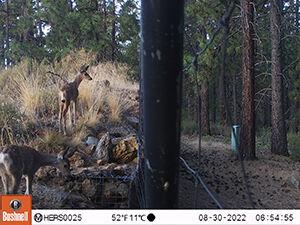 OWF works on project that protect wildlife, reminding Oregonians they can support wildlife conservation efforts with purchase of "Watch for Wildlife" Oregon license plates. More than 6,000 Oregon Watch for Wildlife plates have been sold, raising more than $160,000 for wildlife conservation in Oregon.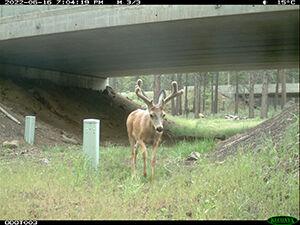 The license plate funds support the Southern Oregon Wildlife Crossing Coalition which works to create safe pass locations for wildlife along I-5 in the Cascade Siskiyou National Monument. OWF says more than 17,000 vehicles travel I-5 south of Ashland each day, so the wildlife crossing project "will ensure the safety of all drivers and wildlife by building two overpasses between Ashland and the California border."
OWF says Oregon's wildlife-vehicle collision hotspots include:
 Route 82 between Elgin and Enterprise
 Highway 97 between Bend and Chemult
 Highway 20 between Santiam Junction and Sisters
 Highway 20 between Juntura and Harper
 Route 138 near Roseburg
 Highway 97 and 140 near Klamath Falls, and
 Route 42 between Myrtle Point and Coquille
It says wildlife-vehicle collisions affect populations, "For instance, mule deer numbers in Oregon have fallen 53% below state management objectives over the past few decades. Wildlife-vehicle collisions are a contributing factor, accounting for 20% of mule deer mortality in Central Oregon."