RUCH, Ore. — A suspect who eluded capture by the Jackson County Sheriff's Office last weekend near Applegate Lake again eluded deputies near Cantrall Buckley Park on Thursday night, according to the agency.
33-year-old Anthony Minneci allegedly led deputies on a lengthy car chase Saturday before abandoning his vehicle near Applegate Lake and getting away on foot. A search of the area uncovered a gun, but no Minneci.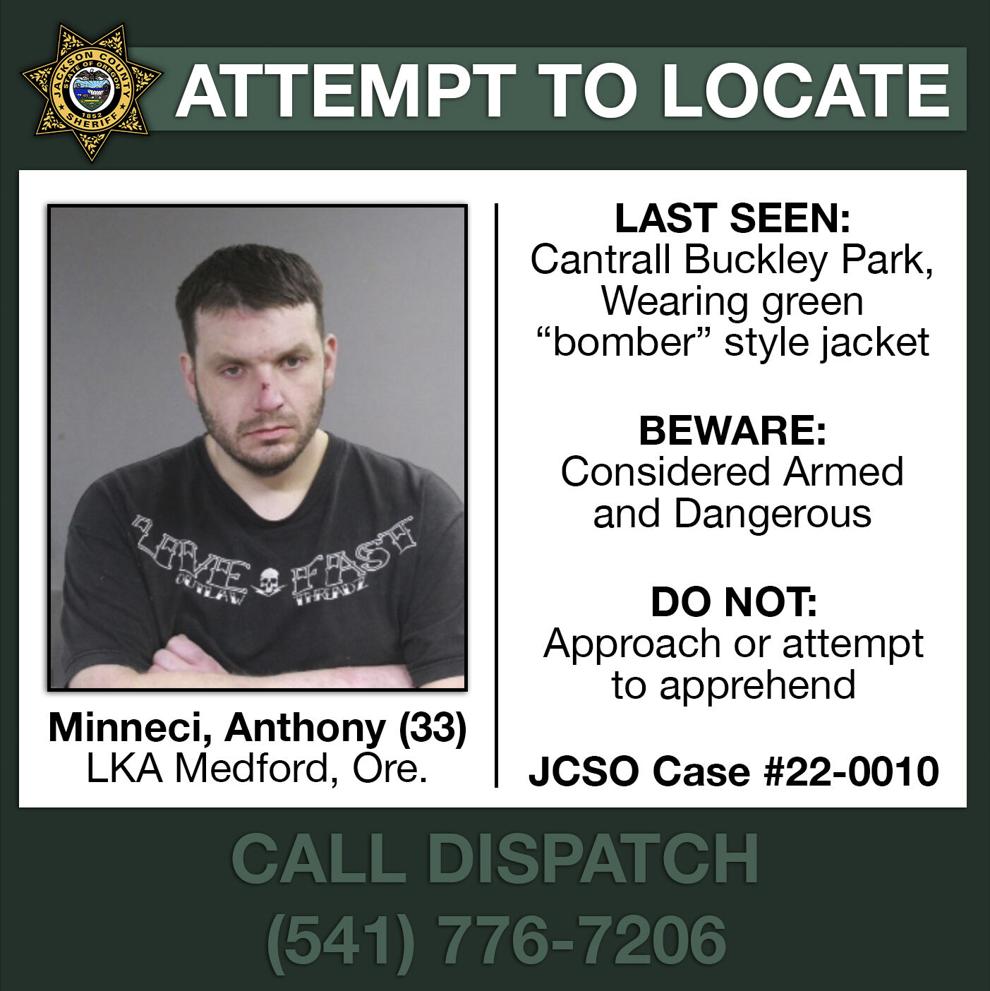 Minneci resurfaced Thursday night when he allegedly stole another vehicle and eluded Medford Police officers. He crashed near Cantrall Buckley park, again abandoned the vehicle and got away on foot. JCSO said it is searching the area with K9 units and the Search & Rescue Drone Team, but have not been successful.
According to the Sheriff's Office, Minneci was last seen Friday wearing a green "bomber" style jacket near Cantrall Buckley Park. He is considered armed and dangerous — JCSO said if you see him, do not approach or attempt to apprehend, instead call dispatch at (541) 776-7206.
"We do not believe he is a threat to the general public at this time, but if you live in the area make sure to be cautious and keep houses, out buildings, and vehicles LOCKED," the agency said. "Again, if you see anything suspicious call dispatch at (541) 776-7206 to report."
Detectives arrested Minneci back in November of 2020 after a search of his Eagle Point home allegedly revealed more than a pound of heroin, nearly a pound of methamphetamine, 500 pounds of marijuana, 18 guns, a 40mm grenade launcher, a silencer, and more than $15,000 in cash.
That case, and another since, are on hold because Minneci has repeatedly failed to appear in court after he was granted conditional release in March of 2021.