ASHLAND, Ore. -- A rather simple gravestone now resting on its back in Ashland's Mountain View Cemetery is that of Dr. David Sisson.
As one of the region's first medical doctors, he arrived in Ashland with his recent bride, Celeste, in 1856. He was welcomed to Ashland Mills, that's what they called it then, by founder Abel Helman.
"Abel Helman approached him as a… as a guest at the Ashland boarding house, and asked him to stay as a doctor. He enticed him, said, 'this would be a good place to practice. We need a doctor here,'" says Jan Wright.
His story and that of the early Ashland settlement is chronicled in a book by former Ashland historian Kay Atwood called "Mill Creek Journal".
"Abel Helman in the meantime had um, one lawsuit after another asking for paying debts. He tried to make a go of both the Ashland boarding house and the Ashland uh, mill-- flour mill. And it just never really prospered under his leadership," says Wright.
So while the Sissons were thriving, Helman struggled.
Wright says, "David Sisson got there about three years after Helman and Eber Emory and James Cardwell arrived. And uh he seemed to just know how to do business better and prosper with the hotel."
Then in the early spring of 1858, someone fired a shot at David Sisson as he went from the boarding house to the creek for water, wounding Sisson in the hand and side.
A former California man was accused, but fled the area and was never arrested. Ten days later, David and Celeste were awakened one night to see their barn in flames, taking everything inside of it.
Five days later, Sisson's baby daughter Augusta was born. And then, on April 5th, 1858, Sisson was walking toward a spring on Mill Creek when a shot rang out from the hill above.
Sisson immediately fell to the ground. Two men saw Sisson fall and raced to his side just to hear him say, "my god, they have got me this time." He died on the spot.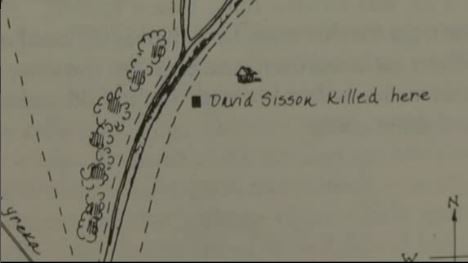 An investigation found evidence of where the shot was fired from and footprints of where the shooter fled up the hill, but no one could say who the gunman was. At least not yet.
The Oregon Sentinel reported that, "this certainly is one of the most cold-blooded and cowardly assassination that has ever occurred in this or any other country.... It is the duty of all good citizen to aid in ferreting out the perpetrator of the deed."
But no one was positively identified as the shooter, although one man, S.B. Olmstead, later wrote a letter to Eli Anderson, a friend of the Helmans, saying he had a pretty good idea.
The letter is in the archives of the Southern Oregon Historical Society. It lay hidden for 125 years until Atwood found it. In it, Olmstead tells Anderson that "when I first saw him I was in a small trail. My being partly behind a bush, I am satisfied he did not see me. I remained watching him for some time until he was out of sight."
"It also says that the man who did it was a resident of Ashland. He wasn't a stranger from California of some place like that… it was an actually resident from Ashland. A guy that lived there," says Wright.
Wright says while Olmstead was reluctant to name names, it's likely both he and Anderson knew but never said anything. Because of this, no one was ever charged.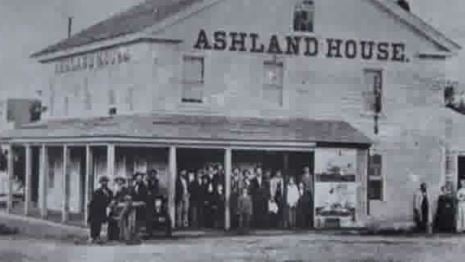 "Who benefited the most from David Sisson's death? And that person would have to be Abel Helman," says Wright.
That's based on Kay Atwood's extensive research.
So would police be interested in re-opening this 150-plus year old case?
"When a case is that old you have to ask whether or not there is a real reason for the police to use our scarce resources, uh, for something like that. I think the answer is no. There's no way to bring anybody to justice on that. Uh, there's no way to effect anything other than this person's legacy and reputation. And while I think it would be a really fascinating case for a historian to look at I can't see why the police department would invest resources on something like that," says Tighe O'Meara, Ashland Police Chief.
Wright says, "I think that the Helman family sort of redeemed themselves afterwards. They have a street name after them. They have a school named after them and they are considered founding fathers and mothers of this town, forgetting that he had his struggles."