After being featured on NewsWatch 12 this week, Lula has found a home. But here is a dog and cat who are still looking for a family.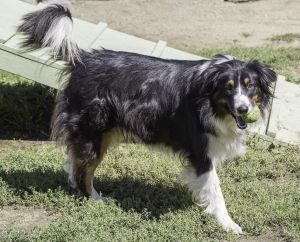 My name is Spirit and I'm a gorgeous girl who is about 6 years old. You may be drawn to my good looks, but I am not for the first time dog owner. I was adopted from the shelter and returned due to my on leash reactivity towards other dogs. I'm a strong, active, intelligent dog, who needs to be provided with daily mental and physical stimulation. I will do best in a home with a fully fenced yard where I can run and play. With proper introdutions, I have done well in play groups at the shelter with other dogs. I enjoy playing with other dogs my size that are social and tolerant. My adopters said I was an easy companion to have around. I am housetrained, bond quickly with my family, and geta long well with children. I know many basic commands and love attention. Because I like to chase small animals, a home without cats is preferred. I can be protective of my family when strangers come to the house, but will settle down once I know they are friends and not a threat. In the right setting, I will make a wonderful companion for some lucky humans. I am currently in a foster home, please contact Cynde at 541-482-8132 if you would like to meet me.
Adult, Female, Large
AGE: Meet gorgeous Lulu! She is a regal 6-year old Lynx-Point Rag Doll mix, looking for the purr-fect home.
PERSONALITY: Lula does not care for other cats or dogs and would really prefer to be the only queen in her castle. This stunning girl likes attention and is sweet and friendly, but will let you know when she is ready for some solitude.
HIGHLIGHTS: If you give Lula the time she needs to adjust to a new home, and are willing to spoil this queenly kitty, you might just have a new best friend.
AVAILABLE: At the Jackson County Animal Shelter, 5595 S. Pacific Hwy., between Talent and Phoenix, open 7 days a week.
COST: Lulu's adoption fee is $45. Adoption includes a free wellness visit at a local veterinarian office. Lulu is spayed.
ONLINE: View adoptable pets via Friends of the Animal Shelter: www.facebook.com/fotas, www.fotas.org or www.petfinder.com
LOST & FOUND: www.petharbor.com or call 541-774-6654.
OTHER RESOURCES: Southern Oregon Humane Society, www.sohumane.org
C.A.T.S. www.kittensandcats.org
Sanctuary One, www.sanctuaryone.org
Spay/Neuter Your Pet (SNYP) – low-cost options; www.spayneuter.org