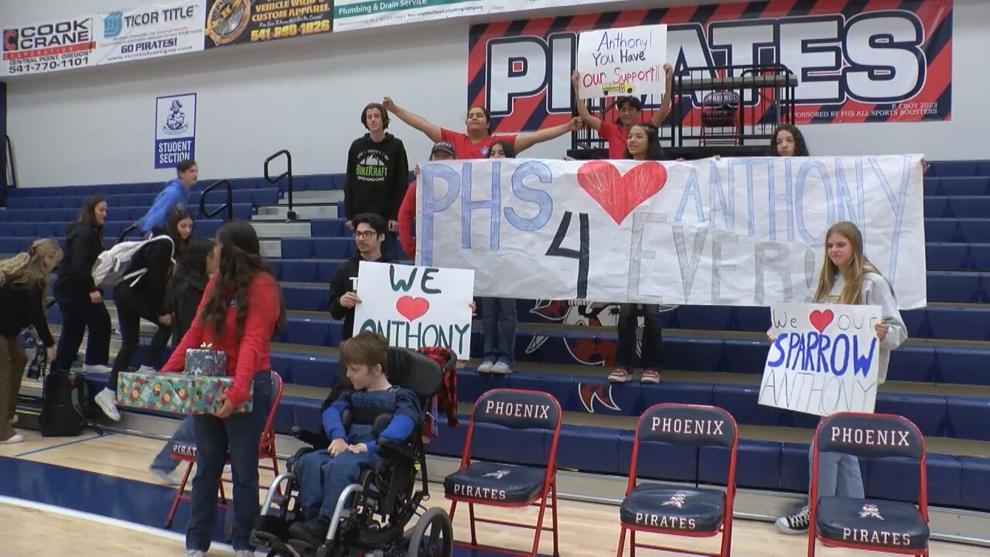 PHOENIX, Ore. -- This afternoon, Phoenix High School concluded its Sparrow Club Drive. This year, they raised $3,000 by participating in more than the expected 300 community service hours for the family of a 6-year-old boy.
The boy, Anthony Verret, attends Orchard Elementary School and has cerebral palsy -- a disorder that affects movement, muscle tone or posture.
"It's incredible for the students," said Kena Sampson, the Director of the Sparrow Club U.S.A. "This particular club with their sparrow Anthony, just what he's been through. His journey has been challenging just in itself, then losing his father just through COVID. You know, this family has been through a lot."
The student body hosted an assembly to honor Anthony and his family. Afterward, students from the leadership organization posed for a picture with their Sparrow Club member while they held up signs that said "We Love Anthony."
"Some of the hardest things that our Sparrow families go through… the students are impacted and they've shown my choices matter," Sampson said. "I can make a difference in this world and that's what our program is all about," says Sampson.
Sparrow Clubs U.S.A has been around since 1992, helping children who need it. Kena and her husband Matt start the program as young as elementary.  
"We're getting to the point where we're seeing the full circle moments. Some said, I still remember all of my sparrows. We have folks that would name off their Sparrows that they had throughout their entire elementary through high school years," says Sampson.